6v6 Winter Showdown 2023: Home
ETF2L 6v6 Season 44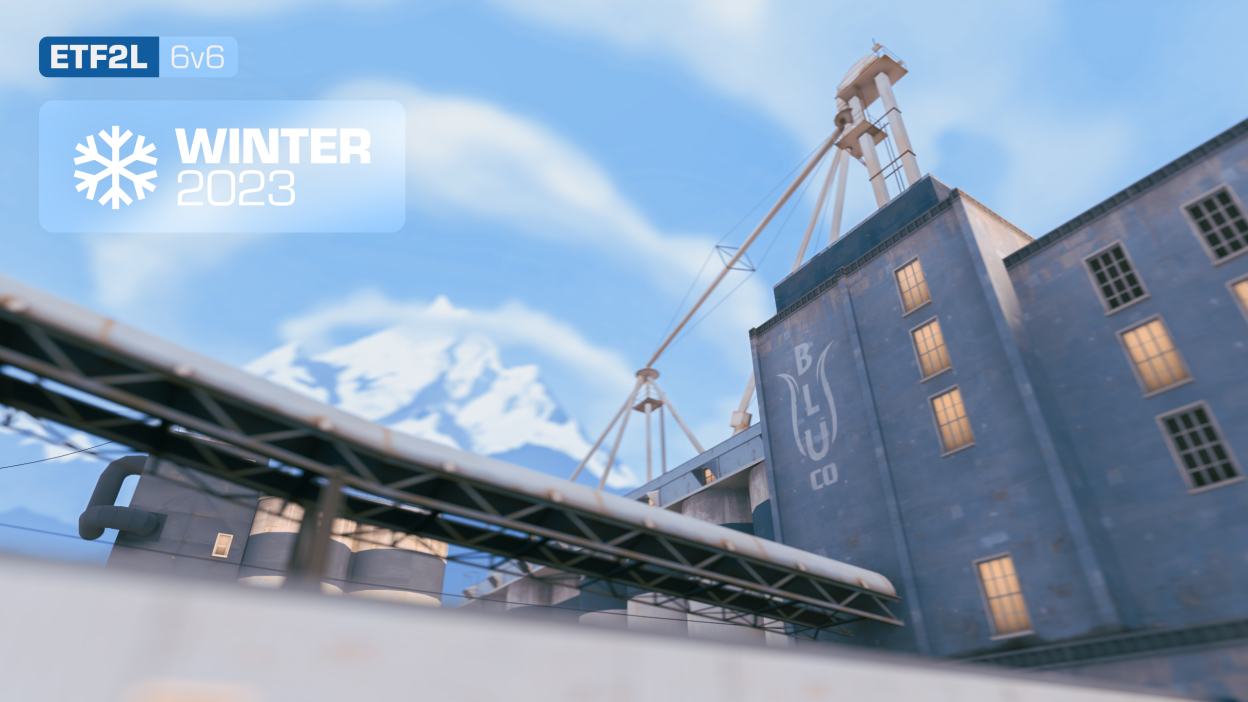 Banner by

soda
6v6 Winter Showdown 2023 Season Schedule:
Signups: January 31st – February 22nd 18:00 CET (Premiership and Division 1 signups will close early, on February 17th at 18:00 CET)
Publishing of Provisional Divisions: February 24th
Publishing of Final Divisions: February 26th
Premiership Qualifiers: February 18th – February 23rd
Main Season: 26th February – April 14th
Playoffs: April 16th – April 30th
Premiership prize pool
Prizepool: TBA
However, you can donate to our Ko-Fi to help towards funding it!

Premiership & Division 1
For Premiership and Division 1, we will be continuing with the pick ban system, the confirmed maps are:
cp_snakewater_final1
cp_sunshine
This subset of maps will be used during the season each week:
week 1: cp_process, cp_snakewater, cp_gullywash, koth_product, cp_granary
week 2: cp_snakewater, cp_metalworks_f5, cp_sunshine, koth_bagel, cp_gullywash
week 3: cp_metalworks, cp_reckoner, cp_process, cp_sunshine, cp_granary
week 4: cp_reckoner, cp_snakewater, cp_gullywash, koth_product, cp_sunshine
week 5: cp_granary, cp_process, koth_product, koth_bagel, cp_metalworks
week 6: cp_process, cp_sunshine, cp_snakewater, cp_gullywash, cp_reckoner
week 7: cp_metalworks, cp_reckoner, koth_product, koth_bagel, cp_granary
Playoffs Format
We are going back to a double elimination system, with the following schedule:
Saturday April 22nd 

17:00 CET – Lower Bracket Semi Final – Seed #3 vs Seed #4
21:00 CET – Upper Bracket Final – Seed #1 vs Seed #2

Sunday April 23rd

17:00 CET – Lower Bracket Final
21:00 CET – Grand Final
Top seeds in Lower Bracket Semi-Final and Upper Bracket Final will have a pick advantage.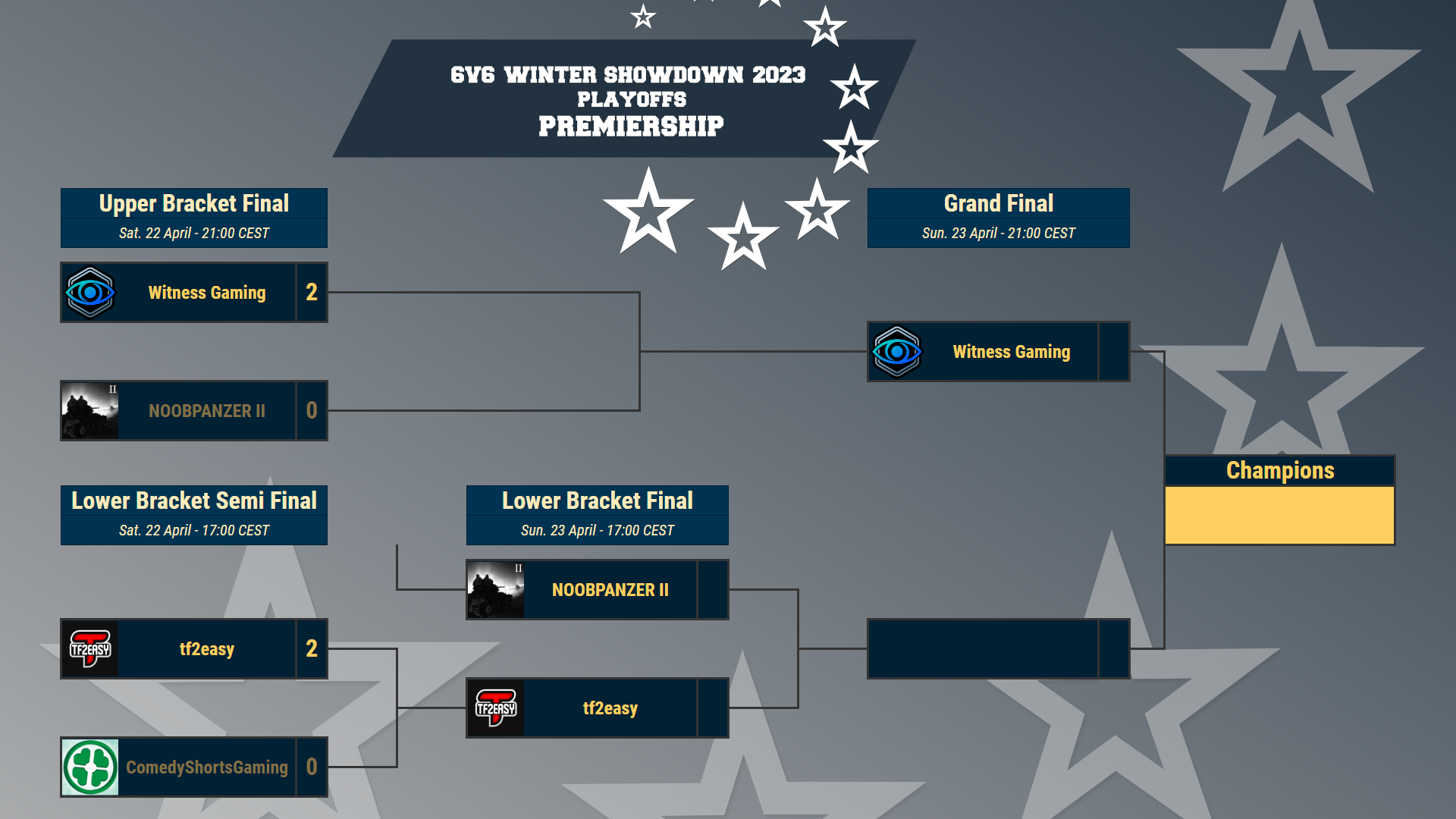 Division 2 & Below
For Division 2 and Below we are going to be testing out a new system where we rotate out some of the "core" maps to allow for new ones to be tried and keep the seasons feeling fresh. This core is:
cp_process
cp_snakewater
cp_sunshine
cp_gullywash
Every season, 3 of these maps will be picked, with the other sitting out until the next season. For this season, we will have have the following maps:
cp_sunshine
cp_snakewater_final1
In the original season announcement we polled the community to choose between two koth maps. With 59,14% of the votes going in favor of koth_product_final against the 40,86% of koth_clearcut_b15d, we will be adding Product to the map pool of the 6v6 Winter Showdown 2023.
The season will use the following map rotation:
Playoffs Format
For lower divisions, the following schedule will be used:
Quarter Finals: April 16th – April 20th
Semi Finals: April 20th – April 25th
Grand Final: April 25th – April 30th
Restrictions
Updated: 08.03.2023
Division 2
Mid
Low
Open
Plugins
The enabled plugins are the following, as long as you run the latest ETF2L config these will all be enabled:
The random variable in fall damage calculation will be removed (sm_deterministic_fall_damage 1).
Mediguns that are dropped while the ubercharge is active will be emptied (sm_empty_active_ubercharges_when_dropped 1).
Crossbow bolts will no longer pass through teammates when in close range (sm_fix_ghost_crossbow_bolts 1).
Gameplay state that changed because of the UserCmd handling bug will be restored to what it was before the pause.(sm_fix_post_pause_state 1).
Players won't stop while sliding on slopes anymore (sm_fix_slope_bug 1).
Stickies will no longer fail to detonate when swapping weapons (sm_fix_sticky_delay 1).
Clients will not be able to use the extendfreeze command. This prevents some information leak, players can use this command after dying to spectate their killer in third person (sm_inhibit_extendfreeze 1).
All pipes will have their collider resized to the set value in Hammer Units (sm_override_pipe_size 4.0).
Projectiles will pass through teammates, but not friendly buildings (sm_projectiles_ignore_teammates 1).
No souls will be spawned during the Halloween holiday events (sm_remove_halloween_souls 1).
Gunboats resistance will apply even if the explosion hurts an enemy (sm_gunboats_always_apply 1).
The Winger's jump bonus will only take effect when the weapon is fully deployed (sm_winger_jump_bonus_when_fully_deployed 1).
Futher explanation, and other plugins can be found on 

 TwiiKuu's Github.