Open Brain
[6on6]
Homepage
None specified
Server
None specified
IRC
None specified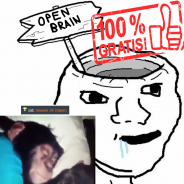 For scrims: Saeth or Gotcha
For officials: Saeth
Pocket Scout: Anzu – Steals your frag, and chases you hard
Flank Scout: Yaga – Not holding flank, dies most in the team.
Pocket Soldier: Lemmy – Only flickshots
Roamer Soldier: Nadpher – Sacks every time, even in über ad
Demoman: Oblix – Fears death
Medic: Ares – No buffs and drops you.
Warnings
Registered Players
Lemmy

Leader

U:1:104296685


Anzu

Deputy

U:1:83687775


Oblix

Deputy

U:1:65697343


Pecklesteiner

U:1:177145177

Upcoming Fixtures
Date
Competition
Round
Team 1
Team 2
No fixtures for this team.
Results
Demos
Player History