October 25, 2014
Another relatively quiet week saw the season's half way mark graced by only five of the Premierships's eight teams, but we got our first look at logjam in the full fury of competitive play and we had the second of the season's three top tier fixtures between

SUAVE and

Ze Knutsson Rollerbladers.
Match Overview


Ze Knutsson Rollerbladers vs

SUAVE
Week 4 (Premiership Division)

Wednesday, October 22nd 21:15 CEST

cp_snakewater_final1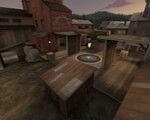 2 - 3 (golden cap)
cp_logjam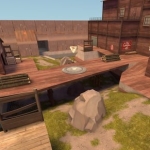 3 - 6
OVERALL


Ze Knutsson Rollerbladers [1:5]

SUAVE
Despite it apparently looking like SUAVE are cemented in top place their advantage over Ze Knutsson Rollerbladers is now much reduced thanks to Snakewater going to a golden cap when the ratings said it should have been a clean victory. Early mids won off the back off a quick

ryb death and

Mirelin winning a duel one on one against

Zebbosai evolved into a story of SUAVE's failures pushing last, making attempt after attempt and throwing themselves at

Knutsson to prevent hard earned uber advantages being turned over only to be cleaned up by the rest of Ze Knutsson Rollerbladers on each occasion.
Off the back of

WARHURYEAH doing his best to throw the match getting picked on middle and then taking over extending to a new level defending last SUAVE were pinned back to 2-2 and a golden cap, where a successful bomb by

Rising taking out ryb on mid snowballed into a quick capture. Finishing the game was complicated by Mirelin dropping to a

zappis bomb but after Rising's backstab on Knutsson on last SUAVE made no mistake this time with a full uber advantage last push.
In a close game heavily decided by deathmatch you'd expect the scouts to flourish and

smziii was SUAVE's most successful fragger.

IPZIE top damaged as WARHURYEAH baited himself out, but rarely if ever was this to his team's strategic advantage – it seems Snakewater is just too dull for demomen for WARHURYEAH's patience to last. As always despite being given a number of suicide missions Rising manages only slightly sub pocket stats.
The freshness factor of logjam worked in favour of SUAVE as they cruised to a comfortable victory, never really under threat after jumping out to a 3-0 lead. Once again WARHURYEAH starred, although this time for something good (racking up massive numbers of kills and damage) as well as something bad (letting ryb cap middle before he could even get there), but as Numlocked has proved time and again, speed isn't everything.
smziii once again wrecked the opposition in tandem with his demo, but

Kiler4fun looked a little out of sorts, often isolated and probably the least successful scout on the field. The map was less eventful for both medics although Mirelin managed another drop, losing the overall drop battle to Knutsson 2-1.
Next in SUAVE's sights are

Planet Express, who should be able to offer enough resistance to make it interesting but with little realistic prospects to take anything from the game.
Godfather: WARHURYEAH
It was so nearly a draw and a 3 point split. After coming back from a 2-0 deficit in no small part down to

amppis bagging 11 (eleven) airshots Ze Knutsson Rollerbladers fell just short pushing last on Snakewater and lost the ensuing golden cap taking only one point from the game.
Central to their competitiveness was ryb's classically economical style dominating mids and supporting his team. His jump behind in the dying minutes of regular time onto SUAVE's 2nd point nearly wrapped up the map for them.
Zebbosai was as usual Ze Knutsson Rollerbladers's top performer although he wasn't quite as lunatic aggressive as usual. He also played some prolonged bouts of sniper but as you'd expect from the league's top team he was rarely able to snipe at leisure, often put under pressure by both SUAVE soldiers.
On logjam a comeback was on the cards for a few moments when Ze Knutsson Rollerbladers managed to claw back a couple of hard fought rounds to reduce the deficit to 3-2 but three more quick round losses getting comprehensively smashed ended that. Their biggest problem was amppis being exploited, going 18/26 and being his team's bottom damager. Any time a pocket soldier is dominated like that their team is in trouble.
Week 5 brings

Salty Frogs who may be able to cause more problems than you might expect,

baud's switch to pocket has seen them dispatch

4-25 and they look a stronger team than the one brushed aside by

Awsomniac. Even so Zebbosai should be able to go back to ignoring his s key for this one.
Underboss: amppis
Match Overview


4-25 vs

Awsomniac
Week 4 (Premiership Division)

Tuesday, October 21st 21:15 CEST

cp_snakewater_final1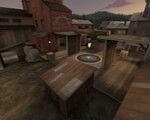 3 - 4 (golden cap)
cp_logjam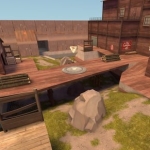 0 - 5
The frenchies dropped a vital league point against 4-25 only just sneaking through on Snakewater by golden cap. Back on pocket soldier

Tek had a good game along with

Flippy, but although his damage output was good

Exon. was too easy to pick (most often by

ShaDowBurn) and his team was too frequently at a demo disadvantage. This didn't completely redress the balance 4-25 lost between Tek and

Shyyou, but it's probably what stopped Awsomniac winning in normal time.

fl1p was restrained on the flank but made a positive contribution against a talented pair of scouts, and 

T-Mac picked up the joint best medic kills from the roamer position.
Once again Logjam favoured the apparently stronger team as Awsomniac brushed 4-25 aside, and there's very little to learn from the logs. 4-25 were simply annihilated in 12 minutes, the longest round was 3:09.
Dungeon dwellers

coolclan are next in Awsomniac's sights and should make a tasty morsel as part of their soft schedule run in.
Consigliere: Exon.
The vanquished eastern Europeans hang on to 4th spot from Planet Express despite losing to Awsomniac, largely because they would be expected to. However 4-25's ratings do seem to defy their league performance. Why am I rating them this highly when even

Dikker thinks they're heading for solid 6th?
There are a number of reasons, one is that they lose so many golden caps. What this means is that they play a lot of very close games that are effectively drawn so statistically they don't really lose out in those games. Two golden cap losses to Planet Express, one to Salty Frogs and one to Awsomniac end up leaving them rated as on parity in those games. They've only had one really bad beating which was this week, and when they lost to Salty Frogs the games were once again very close.
Secondly they have the best sniper in Prem at the moment. When most other players go sniper it's 2 minutes of looking at a choke point or through a crack in a fence until they get killed by the roamer and this brings down the team averages.

kensi. however strings together sprees of headshots freely racking up the kills so the team isn't penalised as much.
They're also benefitting from some roster instability.

Sean John played in the loss to Planet Express and his dire stats have now been expunged from the record, and

skappa has also played when they lost to Salty Frogs protecting kensi. from the effects of facing

NiCO god's hand.
All this confusion adds up to a 4-25 team who are either out playing their league position or are rated far too highly by me. They have yet to play Ze Knutsson Rollerbladers and SUAVE and their rating suggests they should be able to take rounds and compete with those teams as they did with Awsomniac on Snakewater. If they're crushed out of hand then we can expect them to be rated far lower by the end of the season.
Coming back to the actual games this week, against Awsomniac

gdk put in an epic performance on Snakewater, but this was mirrored by a diabolical effort from Shyyou. Can it be the team strategy to simply sacrifice him, literally bait out their pocket soldier on every occasion as if he were a mere roamer? He must be the most team oriented player in the game to willingly appear to be this bad if it's true, but we've seen him do stints on sniper recently so perhaps they've taken the double roamer strat to its logical extreme.
kensi. was also strong, in fact almost all their players competed well on Snake although

sid vicious was shaded by fl1p and Shyyou regressed to posting roamer stats again.
4-25 also played, and lost to, Salty Frogs finally playing their week 1 catch-up match. skappa was in for kensi. and the slightly weakened team kept it close but on Badlands their early lead eventually evaporated into a 4-2 loss and they couldn't contain the enemy scout pair. Ultimately their inferiority on mid fights decided the map, gdk the only player emerging with much credit.
Process was an altogether tighter affair although the absence of kensi. will have hurt much more on this sniper friendly map. Even so skappa was 4-25's best player regarding frags (although his damage even for a scout was puny) with ShaDowBurn's survivability based loadout giving him scope to be far more effective than his roaming counterpart on Salty Frogs. However once again a pocket comparison sees all their work undone, baud dominating the field at Shyyou's expense.
4-25 get what amounts to a breather next week against

Politically correct pander although there'll be more chances for pocket soldier shaming against

zoob.
Caporegime: gdk
Didn't play this week so there's not much to report apart from the apparent departure of Samsa. He should be replaceable, he rated as a middle of the road roamer. Apparently the reasons are unmentionably dramatic.
If

Hafficool wants to make scout of the week my only tip is to bait your team mercilessly.
Match Overview


4-25 vs

Salty Frogs
Week 1 (Premiership Division)

Sunday, October 19th 21:15 CEST

OVERALL


4-25 [6:0]

Salty Frogs
The French speaking alliance battled past 4-25 this week to take 4th spot in the league ahead of Planet Express and 4-25, yet I'm still not rating them that highly. Pourquoi? To be honest their record isn't that impressive. They've beaten bottom feeders coolclan and overcome 4-25 after a very close struggle, but were brushed aside by Awsomniac relatively easily.
Also the extent to which they've been carried by NiCO god's hand isn't good for the rest of their team, although that's changing a bit now with baud on pocket.

Hidan is also lagging behind in the demo stakes and that's never good for the team's overall rating and will catch up to them in the long run.
One other effect of the way the rating system works, they're coming in late and playing teams who have already lost rating points to the top dogs so there is less for them to pick up. When they've played everyone this will even out.
On Badlands NiCO god's hand was dominant top fragging, almost top damaging and posting the best kd as well.

droso also did well, the scout pair cleaning up efficiently. Did they bait their soldiers and demo? Both had heavily suppressed fragging stats, but also did relatively poorly on damage, so these seem like questionable performances outright.
On Process NiCO god's hand finally had a quiet map, with baud dominating while soaking up a massive 45% heals and droso doing the better cleanup work. Hidan was once again overshadowed on damage not just by the enemy demo but by ShaDowBurn as well.
Capo di tutti Capi: NiCO god's hand
Nothing to see here
Move along
Team of the week:
Demo: gdk
Pocket Soldier: amppis (one nipple hair ahead of IPZIE)
Roaming soldier: Rising
Scouts: Zebbosai & smziii
Medic: Mirelin