Highlander Season 13: High Playoffs
Semi Final
Round commencing: -

Schedule deadline: | Result deadline:
Scheduled:
Results submitted:
by ETF2L Staff
koth_product_rc8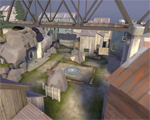 1 - 3
[Screenshots: A ]

That Awkward Moment vs

Lucrosa
3 - 6
SteamID Screenshots: A
Players
| | |
| --- | --- |
| That Awkward Moment | (7) .zero, Tombahh, Chicobo, Sepu, Dragonce, Scyper, miknando |
| Lucrosa | (9) Shpeeisme, Nightmare, syath, andrew, Cnoz, Cronk, phalanx, Gannex, GardenFungus |
Demos
28 Comments
ETF2L Staff said:


Hello teams, and welcome to the Playoffs. The winner of this match will advance to the Grand Finals and the loser will be knocked out.

To pick the maps, we're using Map Elimination [Explanation]. Please post your maps on this page at least a day in advance of the match for good measure.
Since season 13 has 6 maps, you will have one elimination round.

Explanation:

The higher seed decides if they wish to be Team A or Team B
Team A bans a map
Team B bans a map
Team B picks a map
Team A picks a map
The higher seeded team picks the decider map from the remaining two

Lucrosa are the higher seed

Keep in mind that stopwatch is still played in a best of three (BO3) format.
The result deadline is September 9th.

If you have any questions make sure to contact the admins as soon as possible.

Good luck and have fun to both teams.

Qnai: R6S - .awkward said:


We can only play Wednesday and Thursday, and we can't play Friday, Saturday and Sunday.
We might be able to do Tuesday, but its going to be bit difficult.

miknando: nufcZONE - op_sqd said:


23:06 – Cronk: We ban gullywash
23:06 – miknando: we ban steel
23:08 – miknando: we pick upward
23:11 – Cronk: badwater
23:11 – Cronk: product decider

Included_Middle: nufcZONE - Leila+8 said:


#moistgate

Forty-Two said:


Finns&co got this!!

I stole your bees.: (honey daddy) - officer - EF2L said:


Finland is winland!!!!!

Mr British: Alex - pizza said:


Bees could not have put it better

Mr British: Alex - pizza said:


Combined Logs: http://logs.tf/1830209

Forty-Two said:


I'd like to point out that, assuming you all did a warmup, you played a 4 hour marathon of Highlander yesterday

Included_Middle: nufcZONE - Leila+8 said:


#CutGannex

Gannex: Lucrosa said:


Lucrosa won I just put the product scores the wrong way around by mistake! Waiting for an admin to come online to help fix
Leave a Reply
You must be logged in to post a comment.