Experimental Ordnance Cup #4
Round 1
Not Scheduled
Results submitted:
by Recluse (Death Adder)
cp_granary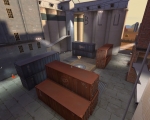 0 - 5
[Screenshots: A ]

Peltikanat vs

Death Adder
0 - 3
SteamID Screenshots: A
Players
2 Comments
RaCio: GoT² said:


Hello Peltikana vs Death Adder

Your server for tonight has been assigned and mailed. If you have any questions please contact an admin.

tomzi said:


It seems Waltu signed us up for the Cup and didn't tell anyone. I was having a holiday and didnt even bother checking etf2l out because our team knew I would't be playing. so sorry about that but nobody knew about this match and I will talk to waltu to not sign us up for anything because he havent even been active for a while.
Leave a Reply
You must be logged in to post a comment.