April 29, 2013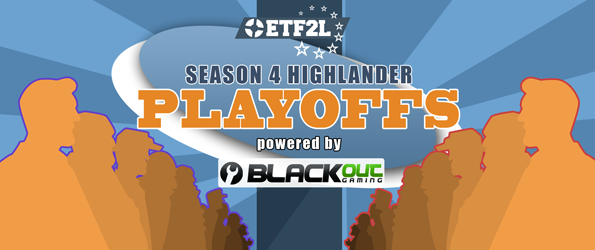 banner by

accless
Playoffs and Tiebreakers
For most teams, Highlander Season 4 powered by BlackOut Gaming is over. However for a small percentage of teams, there are still the all important Playoffs and Tiebreakers to be played! The full list of tiebreakers:
Premiership


 DAROUTOUTOU vs 

 Parrot Gapers
The winner of this match will be in the Grand Final where they will face 

 SNSD for the chance to be crowned Season 4 champions!
Division 1/Premiership


 Kill Switch vs 

 Legolas' Wrath
The winner of this match will have a guaranteed spot in the Premier Division for Season 5.
Prizes
As a reminder of what's at stake, here is a list of prizes for Season 4, generously donated by BlackOut Gaming.
Premiership playoffs:
Winner: €500
Runner-up: €350
Third Place: €150
As in previous seasons and thanks to Valve Software and Ruskeydoo, players in all divisions will receive in-game medals for winning the group, as well as participation medals for finishing the season. The Premiership Division will have gold, silver and bronze medals for the first three places.
Schedule
All Tiebreakers must be played before Sunday May 12th. Matches without results will be coinflipped.
Here are the deadlines for each round of the playoffs:
Tiebreakers:
All Tiebreakers must be played before Sunday 12th May 23:59 CEST.
Premiership Playoffs:
Semi Finals: Sunday May 5th 23:59 CEST.
Grand Final: Sunday  May 12th 23:59 CEST
Maps
All Tiebreakers and Playoff matches will be played in a Best of 3 format. However note that Badwater, Gravelpit, Barnblitz and Upward should be played only one round each. Gullywash and Lakeside will be played with the usual rules.
The maps for each tiebreaker and playoffs match will be decided by map elimination. A step-by-step breakdown of the process can be found on the Rules page