November 19, 2012
ETF2L 6th Cup Brackets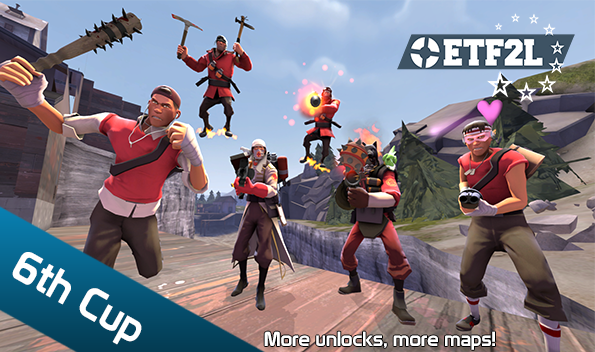 The 6th big ETF2L cup is upon us and the randomly generated brackets are online. 17 random teams got a "bye" for the first round, please do not play the next round's match yet. The seedings for each round are random so the opponent that is currently assigned to you for round 2 is most likely to change after the next seeding on Saturday evening!
The 8 top seeds will enter the tournament for the quarter finals that are due to start on January 6 2013. This affects the following teams:
AVENUE eSports
 BFF
Crack Clan
 Damage Control
 Epsilon eSports
Lutuset
 MyDGB.net
 Quarantine
It's dangerous to go alone, take some reminders!
The winner for all matches that are unplayed by the end of the match deadline (every Friday night) will be decided with a coin toss
Default date for each round is Thursday at 21.15 CET, rescheduling is possible
The round 1 deadline is Friday, November 23
Every round is seeded randomly. The draw will happen every Saturday at around 18.00 CET
In the first 4 rounds, use the map elimination system to choose the played map
For a list of the map pool and the allowed unlocks, please visit the 6th Cup's hub page
A whitelist that allows all unlocks for this cup can be found here and has to be loaded manually by a server admin
Ultiduo #4 by ETF2L and nervousENERGY Reminder
You are all hereby reminded that the group stage of the Ultiduo cup ends on November 20. Matches without result by 23:59 CET will be set to 0-0 and the first round of the knockout stage will be seeded as soon as possible. If you had problems with an opponent not showing up, make sure to present your claim to the admin staff today or tomorrow.