April 25, 2010
Super sunday
Season 7 reaches its dramatic conclusion tonight with the Division 1 title race still wide open. Five-time and reigning champs

Team Dignitas currently sit atop the division with 33 points, but

I Don't Know? on 30 points and

TCM-Gaming on 29 points both have two maps to play tonight.
I Don't Know? control their own destiny: two map wins tonight against

FakkelBrigade guarantees them first place.
TCM will be hoping that FakkelBrigade manage to at least draw on Gorge, like they did versus Dignitas, which would mean that the door would be wide open for them to take first place by beating

The Last Resort over two maps, which will be played at the same time as I Don't Know?'s fixture.
If TCM only manage four points and I Don't Know? just squeeze three out of FakkelBrigade, that'd set up a three way tie for first place between the teams and Dignitas.
Who will be the Division 1 champions by the end of tonight?
Loading ...
ETF2L Radio #12
ETF2L Radio will be casting the action live from I Don't Know? vs FakkelBrigade, with real-time updates from the TCM vs TLR fixture running at the same time. Make sure to join us as we celebrate the end of the season in style and crown the champion of Season 7.
We will also hopefully be providing a video stream, courtesy of Level Up TV, right here on the ETF2L homepage.
Starting Sunday, April 25th at 20:50 CEST
Hosted by Dave, Torden and JimmyBreeze
SourceTV: fakkelbrigade.eu:27100
Mumble cast: fakkelbrigade.eu / port 64740
Join #etf2l.radio for shoutouts
There will also be a German language stream switching between both games starting at 20:30 CEST from TFPortal.de
Spread the word
Torden has made a beautiful poster to celebrate the event, make sure you spam it on your local TF2 message board of choice!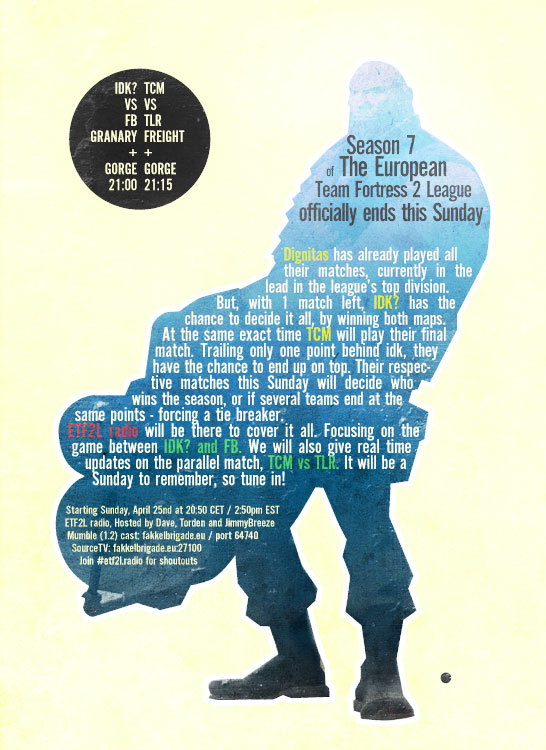 Match Overview


Epsilon eSports vs

FakkelBrigade
Week 7 (Division 1)

Sunday, April 25th 21:00 CEST
SourceTV: fakkelbrigade.eu:27100
cp_granary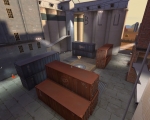 3 - 1
cp_gorge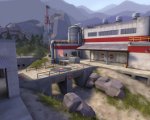 2 - 0
OVERALL


Epsilon eSports [6:0]

FakkelBrigade
Match Overview


TCM Gaming vs

Marco FTW
Week 8 (Division 1)

Sunday, April 25th 21:15 CEST
SourceTV: fakkelbrigade.eu:27102
cp_freight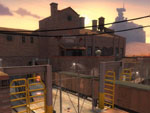 5 - 0
cp_gorge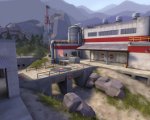 2 - 0
OVERALL


TCM Gaming [6:0]

Marco FTW