Tank Topped Bum Boys
[Highlander]
Homepage
None specified
Server
None specified
IRC
None specified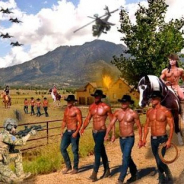 TTBB came (wink), fucked up div4 with meme strats and left. Team is splitting up.
Roster for Season 23:
Scout: Bigfish
Solly: Otso
Pyro: Temm
Demo: Kul
Heavy: Alabamo
Engie: Bigzzz
Medic: Smoke
Sniper: Benaty
Spy: Kraze
Subs: Frohman, Sam
Thanks for the fun guys :)
Warnings
Registered Players
Awards
Upcoming Fixtures
Date
Competition
Round
Team 1
Team 2
No fixtures for this team.
Results
Demos
Player History