NOT not dead doggo (for legal reasons)
[6v6]
Homepage
None specified
Server
None specified
IRC
None specified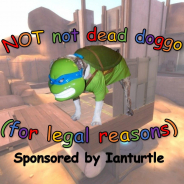 add jjake or squirrel for games
After the legal proceedings following the publishing of an unlawful cease and desist letter in May of 2019, James "Mopahh" McCarthy was ordered by the court to renounce all claims on the not dead doggo brand and pay a fine of 2000 refined metal to Ryan "lor_is" Callard. The judge noted that the defences main evidence, that the team did, in fact, have more original doggo members, was valid but he concluded that as the founder and CEO of not dead doggo, it was Callard's IP and hence protected by the Copyright, Designs and Patents Act (1988). Below follows a statement from the lawyer representing the defendant: "Whilst my client is unhappy with the decision found today, he will accept the decision of the court, and does now renounce all claims to the not dead doggo brand" – Age "Streep36" Steenbreker LL.M., speaking on behalf of McCarthy.
Scout: Videogaming Jude
Scout: sneakeh
Roamer: squirrel_BVC
Pocket: jjake
Demo: Mopahh
Medic: DCS
Warnings
Registered Players
hi im cupcake

Leader

U:1:54789339


Mop

Leader

U:1:99847536


Jude

Deputy

U:1:23332070


Aubriac

Buddy

U:1:97424035


streep36

Buddy

U:1:97022246


DCS

U:1:102840237

Awards
Upcoming Fixtures
Date
Competition
Round
Team 1
Team 2
No fixtures for this team.
Results
Demos
Player History