Parliament Of Alcoholism
[6on6]
Homepage
None specified
Server
None specified
IRC
None specified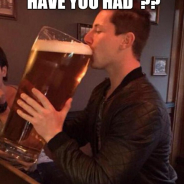 This team has dropped from the following competition(s):

WE DRINK AND WE SHALL
Rule #1: Always get drunk before scrims/officals
Rule #2: Behave to everyone who doesnt drink alcohol as subhumans
Rule #3: Respect the Irish
Rule #4: Pray for jesus if u had large amounts
Rule #5:Laugh on buckets if he gets tipsy from 1 beer(IF)
Rule#6: No bar fights unless they are interesting
Add buckets
Drinking roster
-MAIN-
BMW fanatic who likes the le coqs(beer) :Derakusa
Bar owner (Lightweight):MoreBuckets!
The commander of the RA(of the bars) : Bob D
The private of the RA (of the bars): Private(cnt)
Dark humor genius: Adolfinn
Cigarette and cheap Lager fanatic & somehow an engineer: BaaBo
Add Buckets
Warnings
Registered Players
Bob D

Leader

U:1:66109902


BaaBo

U:1:44065750


Derakusa

U:1:51229275

Upcoming Fixtures
Date
Competition
Round
Team 1
Team 2
No fixtures for this team.
Results
Demos
Date
DL
POV
Competition
Round
Team 1
Team 2
No demos for this team.
Player History