Ultiduo Cup #4 by ETF2L & nervousENERGY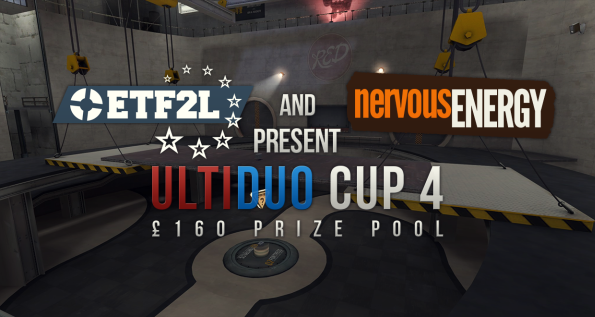 Overview
It has been a while, but better late than never. 

 Monkeh, one of the leaders of the reputable community nervousENERGY (the above banner is a work of 
 JustMoose, one of their members, thanks for that!), donates £160 as prize for another Ultiduo cup, hosted at ETF2L. Grab your favourite healbot or rocket dispenser and sign up until November 10!
For everyone who never heard the term "Ultiduo" before: One medic and one soldier per team face off on the King of the Hill map koth_ultiduo_r_b7. Whoever holds the central capture point under the bridge for a total of 5 minutes, scores one point. The team that first scores 3 points, wins the map. There are some tactics, such as bombing the enemy medic while the allied medic stays in spawn or suiciding (as medic) if it becomes obvious he is going to die and loose his uber percentage anyway.
The nervousENERGY admins have set up two Ultiduo training servers. You can reach them under the following IPs.
connect ne4.nervousenergy.co.uk:27075
connect ne4.nervousenergy.co.uk:27085
Brackets
-[ Group Stage | Tournament Tree | Consolation Final ]-
Prizes

 Monkeh from nervousENERGY donated £160 to the prize pool. The distribution is as follows:
1st Place – £100
2nd Place – £40
3rd Place – £20
Cup format and schedule
Maximum signups: 128
32 seeded groups of 4 teams
Top 2 in each group advance to the knockout stage
Single elimination knockout stage with 64 teams
The schedule for the group stages and the first rounds will be very tight to finish the whole tournament before the Christmas holidays. All matches will have fixed default dates with the option to reschedule within the deadlines. Extensions will not be granted. All group stage matches that are without result on November 20 @ 23:59 will be nullified. The winner of unplayed knockout matches with no result will be decided with a coin toss, when the deadline is reached.
Signups close: November 10
Group stage: November 11 to November 20
Round of 64: November 21 to November 24
Round of 32: November 25 to November 27
Round of 16: November 28 to December 1
Quarter finals: December 2 to December 8
Semi finals: December 9 to December 15
Final and consolation final: December 16 to December 22
The default dates for each round will be set as follows (20.30 CET):
Group stage week 1: November 11 (Sunday)
Group stage week 2: November 14 (Wednesday)
Group stage week 3: November 18 (Sunday)
Knockout stage round of 64: November 21 (Wednesday)
Knockout stage round of 32: November 25 (Sunday)
Knockout stage round of 16: November 28 (Wednesday)
Knockout stage quarter finals: December 2 (Sunday)
Knockout stage semi finals: December 9 (Sunday)
Knockout stage final & consolation final: December 16 (Sunday)
In case two teams are tied on one of the two promotion spots after the group stage, the tied teams have to fight a combo (medic and soldier) melee only (no healing or buffs allowed) 2on2 battle and report the result to an admin.
Map rules
All matches have to be played on the map [koth_ultiduo_r_b7]
There is no timelimit for the match (mp_timelimit 0)
The first team to win 2 rounds out of 3 wins the match (mp_winlimit 2)
Config download: [Ultiduo config]
Unlock rules
The list of allowed unlocks is very short to make the game as balanced as possible. A whitelist that blocks all other items can be downloaded here. The only allowed unlocks are:
Both: Reskins of stock weapons (e.g. strange weapons, festive weapons, botkiller weapons, the Frying Pan, Conscientious Objector, … you get the idea)
Special rules
A team that does not show up for a scheduled match will be disqualified from the tournament
Mercs and backups are only allowed during the group stage (maximum one) and have to be approved by the opponent. Please make sure that one of your players plays in all matches.
You need to play all matches in the knockout stage with the same two players, one of them must be a player who played in all group stage matches. Teams violating this rule will be disqualified from the competition.