Experimental Highlander Cup #4 - High Bracket
Semi-Final
Not Scheduled
Results submitted:
by ETF2L Staff
pl_badwater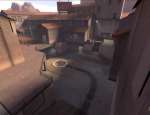 2 - 0
[Screenshots: N\A ]
SteamID Screenshots: A
Players
| | |
| --- | --- |
| Stacked | (8) Delfy, Alex_jj, Cherie, Ace, HelGrim, b33p, Trath, BAITO |
| Osmoz' | (6) Xabi, Isil, Antalolz, Briquet, Aephage, Sfs |
| Unrostered | (2) DeGuN, Mista |
One Comment
b33p_: (ETF2L Donator) - -st- said:


Osmoz won.

Stacked began by defending. Our medic had crashed repeatedly in the match beforehand and crashed (dropped) while defending first point, due to the most recent update. Our scout crashed too, then afaik our engie did. Since they're div 2 with prem merc[s] we knew we'd lose anyway and the crashes would make the whole thing not fun to play, so Stacked gave up.
Leave a Reply
You must be logged in to post a comment.