November 16, 2012
Complete Highlander Season 3 Schedule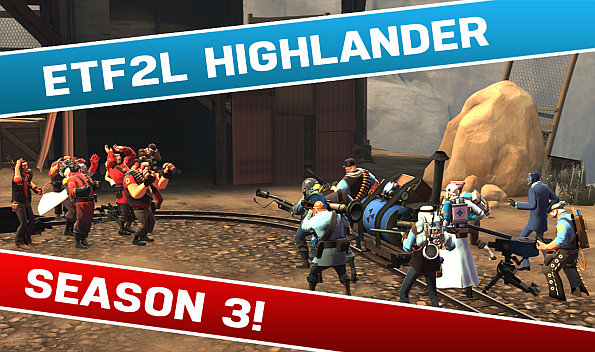 The complete schedule for Highlander Season 3 is now available:
Schedule Week: October 30 – November 3
Main Season: November 4 – December 8 (5 weeks)
Catch-up Week: December 9 – 15
Tiebreakers & Playoffs: December 16 – 22 & January 1 – 19
Playoffs are officially assigned four weeks. Teams that cannot play in the first week of 2013 should play their match in the week before Christmas.
All ETF2L competitions will be suspended for a Christmas break from December 23rd until January 1st.
Highlander Season 3 Rule changes
Catch-up week is now official
The catch-up week is now an official part of the season, and thus teams are allowed to use wildcards during Week 5. Unused wildcards will be disabled after Week 5 ends.
Week 5 matches scheduled into the catch-up week without a wildcard or extension will still receive a late warning.
Dropped teams' results will be removed if they did not finish the season
If a team drops before they finish all main season matches, their results will be removed from the table.
Previously, a dropped team's results were kept if they played at least 75% of their matches.
ETF2L 6th Cup Reminders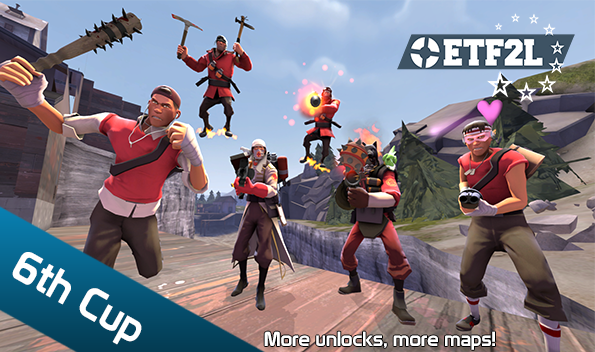 There are still lots of open slots for the 6th ETF2L Cup. Please sign up your team until tomorrow, Saturday, at 18 CET, to get a chance at the €300 cash prize. The bot draw for the first round will follow shortly after.
It is possible that many teams will get a "bye" for the first round because we only have 133/200 signups by now. The top 8 teams, based on their Season 13 results, will still join the cup for the round of 32.
We would also like to announce that we follow the suggestion of

Arx and reshuffle the bracket for each round. The brackets will be seeded every Saturday around 18 CET, you will not be able to predict your opponent for the next round.

chojje has updated his map cp_quay to beta 2. cp_quay_b2 is the official version that has to be used for this tournament. Please make sure that you also have cp_croissant_rc6 on your gameserver.
A whitelist for this cup can be found here. Please remember that you need to manually execute the whitelist after loading your config with the following command
rcon mp_tournament_whitelist "cfg/etf2l_whitelist_6thcup.txt"; rcon mp_tournament_restart